Prime WebTime™. Flexible & Pioneering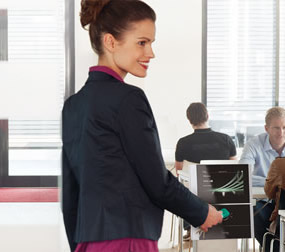 Prime WebTime™ is a pioneer Time & Attendance Management System, flexible enough to fully cover the needs of enterprises employing a few dozens of staff as well as enterprises employing hundreds or even hundreds of thousands of staff, which practically maintain a large number of installations in different locations.
The Prime Web Time® software is installed on a Server together with all software tools required in each installation. Original installation may be in the Standard version and subsequently upgraded to include the following, if the need arises:
Cost Centre Evaluation

Manpower Planning (MPP)

Project time calculation

Work flow

Employee self service

Visitor Administration etc.
 Prime Web Time® consists of the following:
Electronic time recording terminals.
The Time Recording Terminals  used by  Prime Web Time® are designed and manufactured in Germany by  Primion Technology A.G. This ensures high-quality functionality of the overall solution, as both the system's hardware and software is developed by the same manufacturer. A broad range of devices is offered, able to meet all requirements.
Prime Web Time® software.
The Prime Web Time® software is a powerful Time & Attendance Management application. It is designed to meet the needs of enterprises and organisations of any size. It is extremely flexible and can be thoroughly configured to meet the particular needs of each installation. It runs alo on a web-based environment and it is fully compatible with all broadly used databases, such as and Microsoft SQL Server. Prime Web Time® is also compatible with  Prime Web Access®, offering an integrated Access Control & Time Attendance system where this is required. Moreover,  Prime Web Time® can connect to the software of other manufacturers for the exchange of data e.g. with Payroll systems, HRMS or MRP II. It further comprises certified interfaces for integration with SAP systems.
Proximity IDs in the form of cards or key tags.
Primion's terminals recognise all of the most popular types of proximity IDs, such as Hitag, Legic, Mifare etc.
Prime Web Time  is a valuable tool for every enterprise or organisation of any field of activity, where there is a need to record staff arrival and departure times and calculate staff working hours. The system is currently installed in and operated by hundreds of medium- and large-sized enterprises and organisations in all fields of activity, such as:
Industrial facilities
Manufacturing installations
Hotel enterprises
Hospitals
State corporations and organisations
Air carriers and shipping enterprises
Service providers
Publishing houses
Media enterprises
Entertainment enterprises
Private Corporations